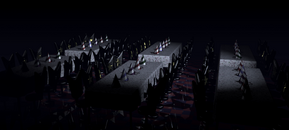 The Dining Area is the area in the the largest part of the building in which children will usually dine in the day during parties and such. The Dining area is connected to the main stage, backstage, Pirate's Cove, the restrooms, the kitchen, and the two hallways either side of The Office. Bonnie, Freddy, Chica and Foxy all pass through this room, (although Foxy cannot be seen on the camera). This room has tables lined on it's sides and middle, with party hats on top of all of them.
Ad blocker interference detected!
Wikia is a free-to-use site that makes money from advertising. We have a modified experience for viewers using ad blockers

Wikia is not accessible if you've made further modifications. Remove the custom ad blocker rule(s) and the page will load as expected.