Purple Guy (named Vincent by some fans) is the main antagonist of the Five Nights at Freddy's franchise and the cold-blooded killer of the five children during missing children incident. He was killed by the spring locks in Springtrap's suit after escaping inside the suit from the souls of the children he killed. Purple Guy destroyed all animatronics of Freddy Fazbear's Pizza. He is generally the final boss in most spin-off games. Pink Guy is his best friend and killing companion.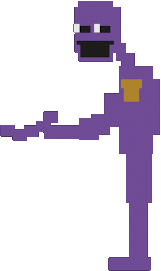 Purple Guy is probably behind all incidents in Freddy Fazbear's Pizza.
He had killed at least 6 children.
Ad blocker interference detected!
Wikia is a free-to-use site that makes money from advertising. We have a modified experience for viewers using ad blockers

Wikia is not accessible if you've made further modifications. Remove the custom ad blocker rule(s) and the page will load as expected.