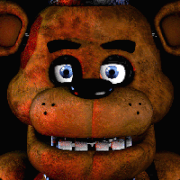 Five Nights at Freddy's (FNAF for short) is the first game in Five Nights at Freddy's series developed and published by Scott Cawthon in 2014. It's probably one of the most hyped games ever made. It has quite a few sequels, Five Nights at Freddy's 2, Five Nights at Freddy's 3 and Five Nights at Freddy's 4. Maybe even FNaF 5 is coming? No one knows!
Gameplay
In the beginning of the game, you start working in a formerly popular family pizzeria with animatronic characters as mascots. At night, the animatronic mascots try to hunt you down and the only ways you can protect yourself with, are doors, monitor cameras and hall lights. Also, that all spends your power and when the power's out, you're dead.
Ad blocker interference detected!
Wikia is a free-to-use site that makes money from advertising. We have a modified experience for viewers using ad blockers

Wikia is not accessible if you've made further modifications. Remove the custom ad blocker rule(s) and the page will load as expected.