Buster The Bunny Is A Green Bunny With A Red Cap. He Is Known To Be The Brother Of Bonnie From Out Of Town. He Is Basiclly A OC Made In July 15 2015 he has a girlfriend named Purple toy chica, and a son named Buster Jr.
Buster
Character Information
Known as
Buster The Bunny
Species
Animatronic Rabbit
Gender
Male
Color
Green
Occupation
Siting In The Backroom
Starting location
Backroom
First appearance
Night 3
Status
Destroyed (Only In The Chica Show)

Yet To Be Fixed

Voice Actor
Unknown
Story
Buster The Bunny Is A Male Bunny. He Was Born When A Bonnie Model Was Accidentally Converted Into A Green Bunny With A Cap. And So Buster Was Born. He Is Known To Like Justice. He Was Also Created When His Creator Was Jumpscared By Bonnie And Toy Bonnie. Then The Creator Had The Idea Of Making A Buster The Bunny. He Does Have A Toy Counter Part And A Nightmare Counterpart Like Bonnie. He Used To Be Up On Stage Along With His Brother Bonnie But For Unknown Reasons He Got Discontinued And Continued The Rest Of His Animatronic Life In The Back Room.
Ways (aka Behavior)
At Night He Gets Less Active During Night 1 And 2.  But During Night 3 And On He Gets More Active Then All The Animatronics. He Starts Moving As Soon As The Night Starts. His Path Is This: Backroom-->
Dining Area-->West Hall-->Office-->Game Over. He Will Repeat This Pattern Over And Over.
Daytime Manners
Buster Used To Be On Stage But Unknownly The Freddy Fazbear Pizza Owner(s) Discontinued Him And Left Him To The Back Room. So Now And Then He Just Sits In The Backroom All Day Waiting For Night To Come. Some Theories Hold That Buster Was Actually Injured By The Freddy Fazbear Owner(s). Another Theory Holds That He Actually Did The Munch Of 2015. (A Parody Of The Bite Of 1987).

This Is Buster's Scream When He Gets In Your Office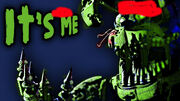 "Which counterpart were you looking for?"

This is a disambiguation for having two names that are the same.
The following is a list of links to pages that might share the same title.
Please follow one of the disambiguation or search to find the page that you were looking for if it is not listed. If an Internal Link led you here, you may wish to change the link to point directly to the intended article.
A Note From DiggerZombie: My OC is beginning to be really famous! Thank you everyone!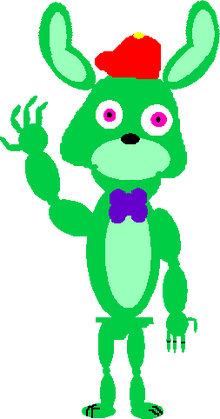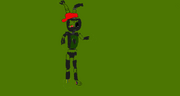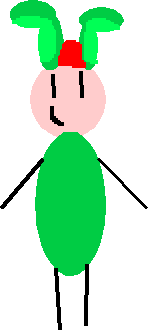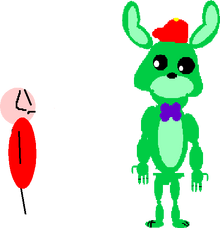 Ad blocker interference detected!
Wikia is a free-to-use site that makes money from advertising. We have a modified experience for viewers using ad blockers

Wikia is not accessible if you've made further modifications. Remove the custom ad blocker rule(s) and the page will load as expected.